Balham's New Group Fitness Classes
Balham's New Group Fitness Classes:
A very exciting announcement:

We are always looking to give you better training, service and keep you motivated. So over the last 5 or 6 weeks have been looking at ways in which we could improve our Group Fitness Programme.

Don't get me wrong, the Smart Group Training programme has been running for the last 18 months and there is no doubt that it's great training with so many of our members seeing and feeling the benefits and becoming real SGT fans!

However, we all feel it's now time for a change.

As AGPF is growing and developing we wanted to be able to offer you more sessions with much more variety.

So after many planning meetings we've decided to wave goodbye to the SGT format and say a big hello to our new timetable of classes which will come into effect from the 03 April

You will now be able to choose from over 11 different types of sessions a week!

We've also changed, updated and simplified our membership options giving you much more value.
Here's our new timetable: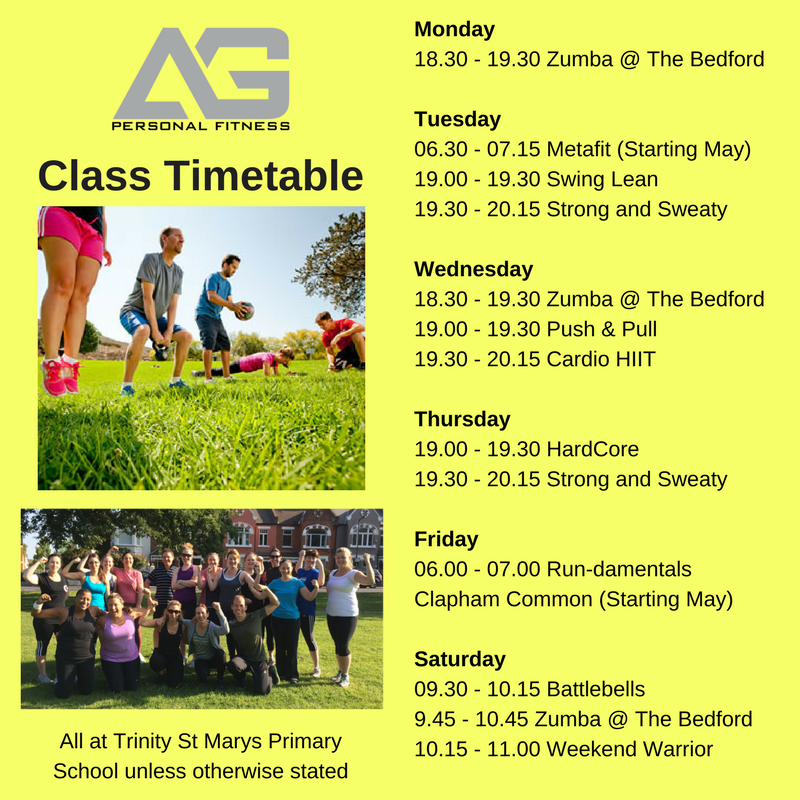 Class descriptions:
SwingLean- Using the Kettlebell swing for fast, effective, safe and fun workouts for maximum weight loss, strength, endurance and fitness. The routines are designed to be scalable to all levels of students, from beginners to advanced

Strong & Sweaty. Build your strength, torch your fat and smash it… in these metabolic circuits using Battle Ropes, Powerbags and Slam balls.
Push & Pull: This 30 minute session will help you tone your upper body and strengthen your core – it's a win-win
Cardio HIIT: take your cardio to the next level. This session is a full body workout designed to get your heart racing and your blood pumping. We will take you from Low to mid to high intensity training. All session scalable for Beginners to Advanced.
Hardcore - Firm up your mid-section with this intense burst of torso toning, improving your core strength, balance and posture.
Battlebells - High intensity interval training mainly utilising battle ropes & kettlebells.. For first timers and the fitness fanatic.
Weekend Warrior: A bodyweight session that will not only work every major muscle group but will shred body fat in a circuit format
Run-damentals (coming in May): Improve your running technique in our running club. Beginners to advanced
Meta-Fit (coming in summer) Start your day off the in the right way. With this bodyweight only HIIT Workout
All new members can try out our classes using our introductory offer of 'UNLIMITED CLASSES FOR 21 DAYS - £35'. Click here to book!